Welcome to the Port of Lopez
Mission of the Port of Lopez
To protect and improve the social, natural and economic environments of Lopez
Island through responsible management of the Port's public assets.
The Port District boundaries encompass all of Lopez Island.
The Port owns a total of 93.26 acres, which includes the Lopez Airport, surrounding safety buffers, the Shark Reef Rental House and property, and Bayview Day Park on Fisherman Bay.
Monthly meetings for the Port of Lopez.
The second Thursday of each month, 5PM at the Lopez Airport. The public is welcome.
AGENDA   January 10

Past Meeting – Minutes and Audio.
    2018 Budget          2017 – Year End            2016 – Year End
Lopez Island Airport is a public airport located three miles south of the village of Lopez, on the west side of Lopez Island, one of the San Juan Islands in the state of Washington.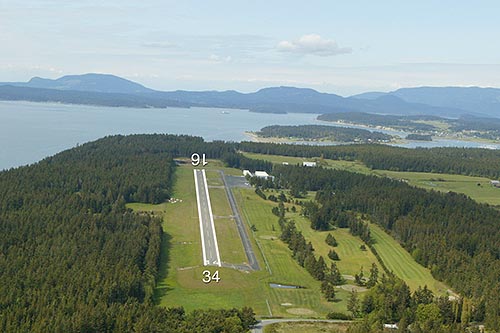 Lopez Island Airport Information

IATA:   LPS
FAA:   S31

The Port receives Airport Improvement Funds (AIP) for FAA approved capital projects.
Lopez is part of the Nation Plan of Integrated Airport Systems (NPIAS).

Qualifications for FAA  AIP funding:

Identified as having essential air service for community.
Have at least 10 based based aircraft (Lopez has 25).

 Lopez Island Airport covers an area of 90.2 acres
Public General Aviation Airport (Basic Catagory).
Maintenance and operations funded by Port income and local property taxes.
Owner
Port of Lopez
Location
Lopez Island, Washington, USA
Elevation MSL
209 ft/ 64 m
Coordinates
48°29'02" N         122°56'16" W

Runways

Direction
16/34
Length
2,904 ft.,  with full length parallel taxilane
Surface
Asphalt (Excellent condition)
Approach information: PAPI's and REIL's on both ends of runways.
Airlines and Destinations
You may reach the Port of Lopez at:
(360) 468-4116
helenc@portoflopez.com
PO Box 907
Lopez Island, WA 98261
Reference Links: