Runway Lighting:
In summer of 2018 the Port replaced old PAPI's, REIL's, runway edge lights and taxiway signs at the airport.
The new lights will be low wattage LED's lowering energy usage, maintenance and increase relialibility.
The Port eliminated unnecessary signs and relocated them to the east side and a greater distance from the runway for safety.
This $800,000 project was 90% FAA, 5% WSDOT and 5% Port funded.
The Master Plan Up Date in progress.
The new updated master plan will be completed in 2018.
The master plan is a requirement of the FAA and mostly funded by FAA AIP monies.
The follow up to the master plan in 2019, will be the FAA required Environmental Assessment of future projects identified in the Master Plan.
Bayview Day Park
Purchased by the Port in 2015, serving both visitors and local citizens…..enjoy!
In 2017 Fred Fickenwirth donated labor to build a swing, the picnic table labor was donated by Laura Adams.
New Fly-In camping and Picnic Shelter
The Port received an economic developement grant from the county to build a picnic shelter and install a fly-in camping area.
This project was completed in summer 2017.
Volunteers: Bruce Dunlop wrote grant and helped build the shelter, Kenn Aufderhar helped build the shelter and Dan Courier designed the shelter.
Hazardous Tree Removal:
Many trees had been encroaching on aircraft landing at the airport mandating an obstruction removal project by the FAA.
The commission started a major project in 2012 of purchasing property and removing trees at both ends of the airport.
The trees were cleared in 2017 on the north end property purchased by the Port.
Solar Voltaic System Added to the Airport:
In 2014 the Port installed a 25Kw photo voltaic system that is producing approximately half of the airports electrical needs, cutting electrical costs by 50%.
This $82,000 investment has about a 12 year pay back depending on variables such as sunlight.
By 2018, the system has produced 93,000 Kw hours electricity.
The photo voltaic system will greatly save taxpayers over the life of the system as well as reducing the Port's reliance on mainland power.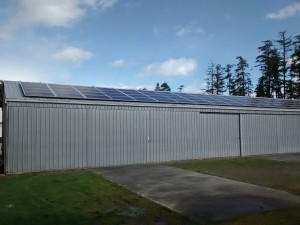 Reconstruction of the Taxi-way:
In the summer of 2011 the Port had a major AIP reconstruction project of the Taxi-way, connectors and apron.
A $2.4 million dollar project, FAA funded 90%, WSDOT 5% and Port of Lopez 5%.
The project required multiple runway closures
Islands' First Cell Tower