Lopez Island Airport is a public airport located three miles south of the village of Lopez, on the west side of Lopez Island, one of the San Juan Islands in the state of Washington.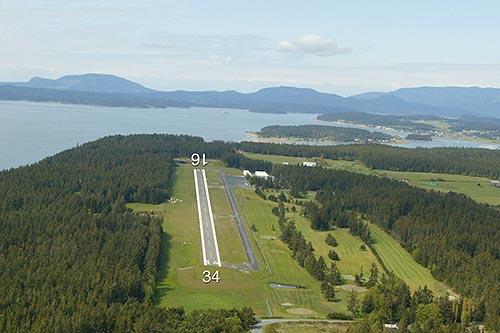 Lopez Island Airport Information

IATA:   LPS
FAA:   S31

The Port receives Airport Improvement Funds (AIP) for FAA approved capital projects.
Lopez is part of the Nation Plan of Integrated Airport Systems (NPIAS).

Qualifications for FAA  AIP funding:

Identified as having essential air service for community.
Have at least 10 based based aircraft (Lopez has 25).

 Lopez Island Airport covers an area of 96.2 acres
Public General Aviation Airport (Basic Catagory).
Maintenance and operations funded by Port income and local property taxes.
Owner
Port of Lopez
Location
Lopez Island, Washington, USA
Elevation MSL
209 ft/ 64 m
Coordinates
48°29'02" N         122°56'16" W

Runways

Direction
16/34
Length
2,904 ft.,  with full length parallel taxilane
Surface
Asphalt (Excellent condition)
Approach information: PAPI's and REIL's on both ends of runways.
Airlines and Destinations